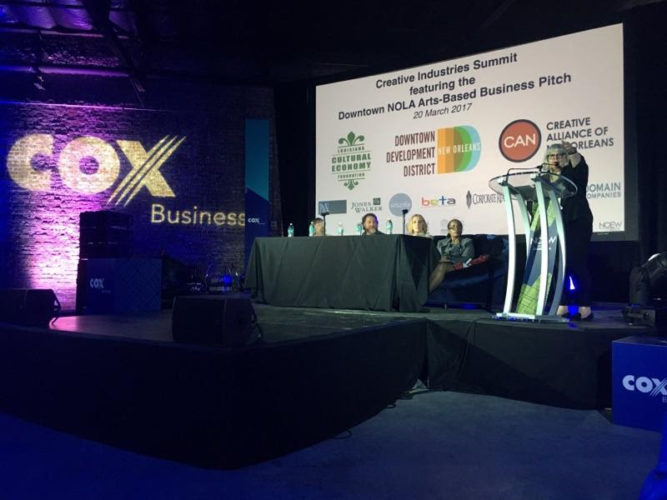 Panels, Pitch Contest and "What's Up" World,
Regional and Local Culture and Creative Industries Update
New Orleans; The Creative Industries economic sector generates 30 million jobs globally and $704.2 billion in U.S. GDP alone. It is also one of the fastest growing economic sectors in the world.
What does this mean for New Orleans? As a global leader in original creative content, it should mean we are poised to become a leading global economic center. How can we do this? What is the role of creatives and other economic development, business and civic leaders? What can the average citizen do to help?
These are questions the Creative Alliance of New Orleans, Louisiana Cultural Economy Foundation and the Downtown Development District are addressing with the special program, "Creative Industries Day" that opens on the first day of New Orleans Entrepreneur Week, Monday, March 20th, at 11:00 AM, continuing through to 8:30 in the evening, at the Contemporary Arts Center at 900 Camp Street, and at the Ogden Museum, 925 Camp Street.
The day opens with a panel at 11:30 a.m. called "What's Up in the Creative World and Creative New Orleans." Creative industry leaders from UNESCO, Pittsburgh, New Orleans and St. Bernard, as well as leading artists give us a heads up on surprising developments and strategies for growth.
From major new festivals, co-op network and funding, to creative marketing strategies, expert speakers reveal the astounding changes in just the past few years on how seriously many cities, states and nations are taking the economic implications of cultural and creative industries development.
  UNESCO leader Felicia Rosita shares case studies of how communities world wide are working to grow their creative industries. Learn how Kim Chestney, head of Creative Industries Network in Pittsburg has fostered a productive collaboration with the Technology Council to advance the arts and cultural economies. Ed Morgan of Morgan and Co, a leading innovator in social media marketing, offers his perspective on marketing for creative producers and initiatives. Hear from artist and advocate Mitch Gaudet about how artists and public officials are re-branding St. Bernard Parish, once an agricultural and petro-chemical center as a new center for the creative industries.
"CANO, further, continues its collaboration with leaders to foster a coalition to identify and secure more substantial and sustained funding for creative industries creators, producers and organizers," said Jeanne Nathan, CANO's Executive Director.
      Small creative business owners will share their successful efforts as well as their challenges in the second panel at 1:15 p.m. What does it take to be successful in the creative industries? We hear from three businesses at three different levels of success, including Ethel Williams of Cocoa & Cream Mobile Food and Catering, a food truck owner and mom. Also joining the conversation is publisher, gallery owner and entrepreneur Steve Martin talking about creating Art+Design magazine, whose readership spans 12 countries. And, hear from Domain Companies Principal, Matt Schwartz about their unique business model which incorporates arts and culture.
"It's vitally important for creatives to see themselves as businesses, and conversely, for traditional businesses to recognize the incalculable benefit that creatives add to their work," says Aimee Smallwood, panel moderator and CEO for the Louisiana Cultural Economy Foundation.
      At 2:30 p.m., selected contestants in the Downtown Development District's Downtown NOLA Arts-Based Business Pitch will vie for the prize of cash and services with a value over $45,000. Finalists include Gigsy LLC, Opera Creole, Two Girls One Shuck, and Young Artist Movement.
"The DDD is proud to once again partner with CANO and LCEF on Creative Industries Day during NOEW," said DDD President & CEO Kurt Weigle. "Downtown NOLA is the region's hub of creativity and entrepreneurship, and the DDD is committed to offering and promoting the resources that allow local artists and entrepreneurs to grow and succeed. I would like to congratulate our pitch finalists and thank all of the impressive entrepreneurs who submitted an application."
     An evening reception from 6:30 – 8:30 PM caps off the day with a 'What's Up" program offering TED-like summaries of the earlier panels, as well as "Shout Outs" from creative artists, producers and creative organizers from neighborhoods around the city. This evening event is by invitation, with local culinary treats and refreshments. The event is focused on area and neighborhood arts, business and public leaders and policy makers. Those interested in attending should call Jeanne Nathan at 504.218.4807.
About Downtown Development District The DDD was created by the Louisiana Legislature in 1974 as the nation's first assessment-based business improvement district (BID) to provide enhanced services in economic development, cleaning and safety. For more information, go to Downtownnola.com
About Creative Alliance of New Orleans Founded in 2007 by Jeanne Nathan and a group of artists and art supporters, the Creative Alliance of New Orleans has the mission of providing training, education, and information for creative artists, cultural producers, and the community in order to protect our cultural legacy and to promote the revitalization of the city as a cultural and economic center. For more information go to: cano-la.org
About Louisiana Cultural Economy Foundation LCEF was established as a 501© 3 organization in 2005. Its primary mission is to be a catalyst for the development and enhancement of the distinct cultural industries of Louisiana by promoting the economic health and quality of life of our cultural economy workforce. LCEF has a proactive focus of supporting creative entrepreneurialism statewide.
Facebook event here.

Related Posts
« Anniversary Artist Call at CANO's Creative Space at the Myrtle Banks Building. Living With Climate Change 2017 »