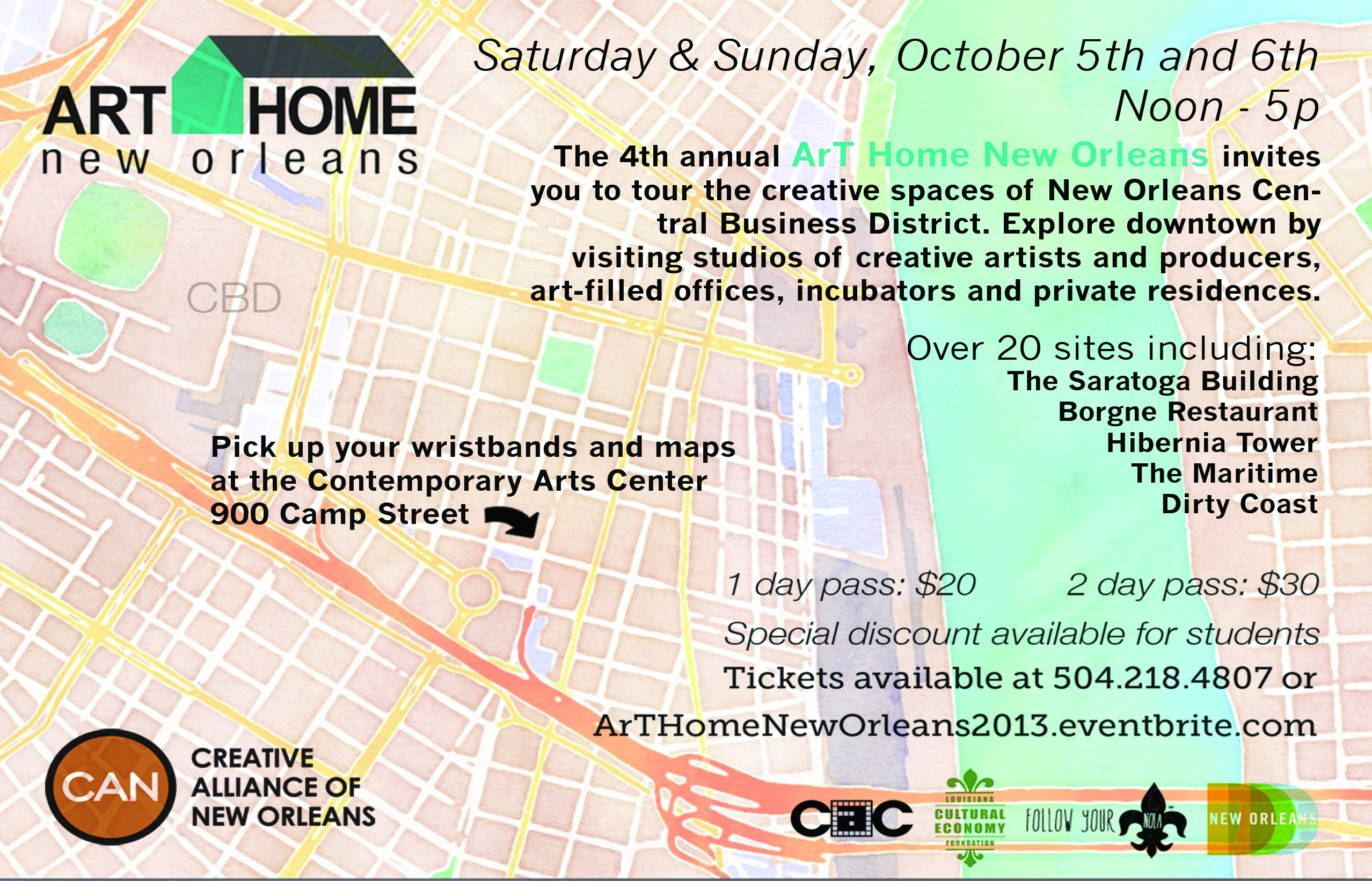 ArT Home New Orleans 2013 shines a light on the creative work-life of downtown New Orleans. Participants will explore the old American Sector by visiting studios of creative artists and producers, art-filled offices and incubators, private residences, and cocktail tour of 7 specially curated bars and cafes.
Watch a preview video of 2 ArT Home 2013 sites here!
The tour is headquarters at the Contemporary Arts Center, 900 Camp Street. Validate your tickets here to receive wristbands and map to guide you from site to site. Over 20 sites are featured this year, including Launchpad, the Saratoga Building, the Maritime, the studio of artist Beth Lambert, the design office of Eskew+Dumez+Ripple, and many private residences!
Enjoy a specially designed "artful cocktail" at these hip and legendary establishments: Sazerac Bar, Loa Bar, Capdeville, Swizzle Stick Bar at Café Adelaide, Polo Club Lounge, Borgne Restaurant, and Merchant cafe. For those looking for non-alcoholic refreshments, Merchant offers a special coffee beverage. For those in search of a bite, Chef John Besh's Borgne is serving up small plates.
Download a pdf listing all the names and site descriptions for ArT Home 2013 here!
One day passes are $20. Two day passes are available for only $30 (or $25 with promo code AH2013 until October 2). On the day of the tour, students with valid ID receive a $5 discount off the one day pass and $10 off the two day pass.
For advance tickets call 504.218.4807
or
CANO thanks the following sponsors: