CURRENT EXHIBITION:
"Juvenile in Justice"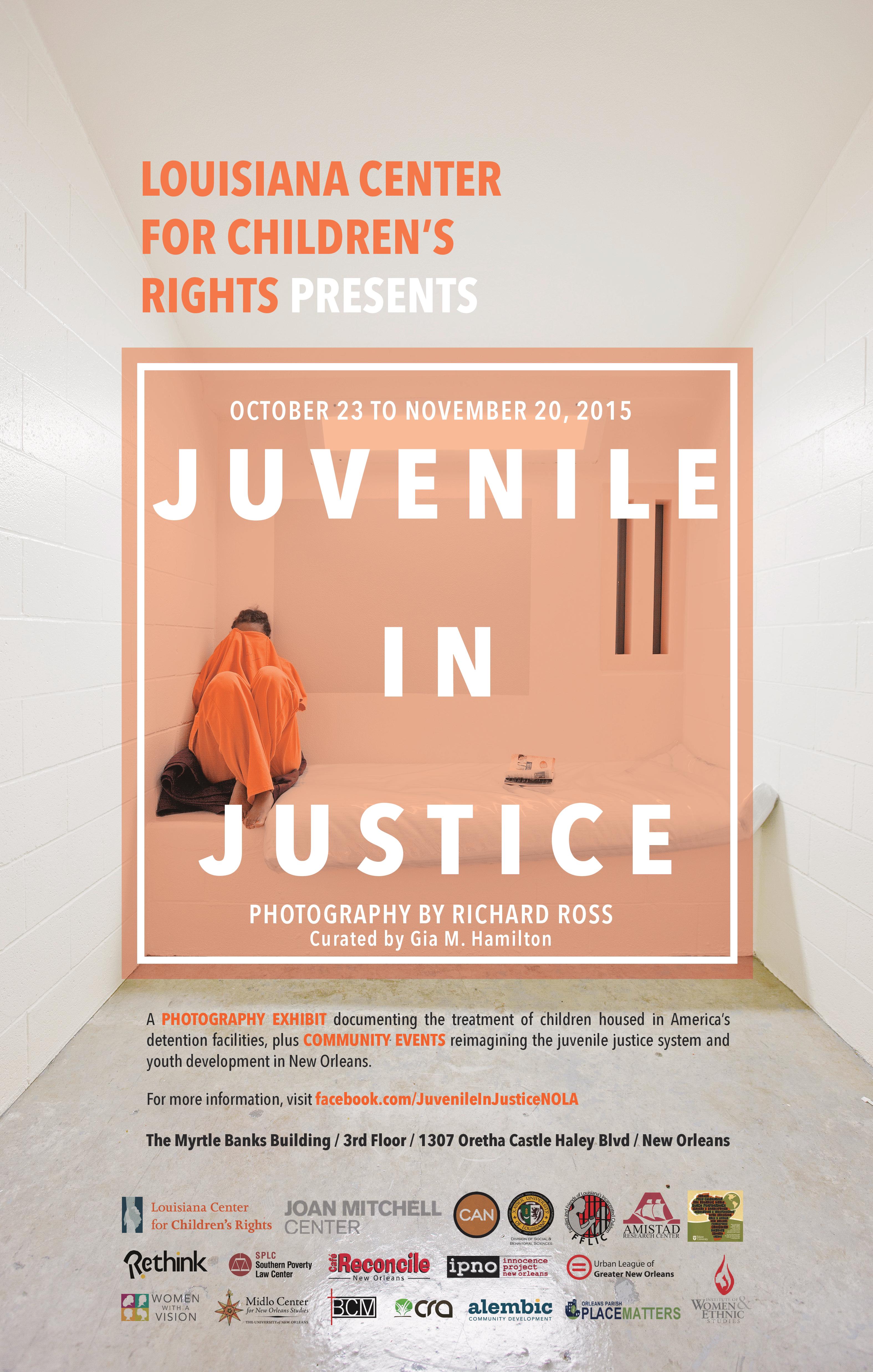 Photography Exhibit Bolsters Call for Juvenile Justice Reform
Community-Sponsored Exhibit Reveals Treatment of Children Behind Bars
New Orleans, LA – Oct. 20, 2015 –  The Louisiana Center for Children's Rights and its community partners are offering New Orleanians a glimpse into the hidden world of juvenile incarceration via a nationally acclaimed photography exhibit.  Created by photographer Richard Ross, the Juvenile In Justice exhibit exposes the treatment of children in Orleans Parish Prison and jails across the country through powerful photographs and personal narratives.
"Juvenile In Justice is a call to action, and it's coming to New Orleans at a critical time," says LCCR Executive Director Josh Perry. "Some of Ross' most heartbreaking photographs of imprisoned children were taken right here in New Orleans. We can take common-sense steps right now to help these children – including, most urgently, removing all children under 18 from the Orleans Parish Prison."
During the exhibit opening on October 22, LCCR will release Keep Children Out of Orleans Parish Prison, a report calling for an end to the detention of children in one of the worst jails in the nation.  A petition will also be circulated asking the New Orleans City Council to remove all children from the adult jail.  The petition has already garnered almost 1,000 signatures onChange.org.
Juvenile In Justice is sponsored by a diverse group of community organizations and local universities that are working toward a better future for New Orleans' youth.   Over the next month, partners will hold events in the exhibition space – from speaking engagements to student events – in order to broaden awareness around issues of juvenile justice and youth development in New Orleans.
One partner, the Midlo Center for New Orleans Studies at UNO, worked with area high school students to create art that reimagines a world without prisons, a selection of which will be included in the exhibition. "The LCCR project and Richard Ross exhibit," explains Professor Ben Weber, "provides the perfect opportunity for young people to respond creatively to an issue that directly affects them, while helping us older folks to imagine possibilities for a different future." 
Curated by Gia M. Hamilton of the Joan Mitchell Center, Juvenile In Justice is on view from October 23rd to November 20th in the Myrtle Banks Building at 1307 Oretha Castle Haley Blvd.  More information and a list of partner events can be found on the event page. 
The Louisiana Center for Children's Rights is a nonprofit law center that defends the right of every child in Louisiana's juvenile justice system to fairness, dignity, and opportunity.   We couple direct services with systems reform advocacy to create a smaller, safer, fairer juvenile justice system.    
The Joan Mitchell Center's mission is to support local, national, and international contemporary visual artists. The Center provides a place for creation, innovation and transformation for artists, while supporting values of community, diversity, and social equity in New Orleans.
Contact Renée Slajda at rslajda@laccr.org or (203) 231-7285.
Exhibit sponsors are:
The Louisiana Center for Children's Rights
The Joan Mitchell Center
African & African Diaspora Studies, Tulane University
Alembic Community Development
Amistad Research Center
Baptist Community Ministries
The Center for Restorative Approaches
Creative Alliance of New Orleans
Division of Social & Behavioral Sciences, Xavier University
Families and Friends of Louisiana's Incarcerated Children
Innocence Project New Orleans
Institute of Women & Ethnic Studies
Midlo Center for New Orleans Studies, University of New Orleans
Orleans Parish Place Matters
Reconcile New Orleans
The Southern Poverty Law Center
Urban League of Greater New Orleans
Women With A Vision
---
PAST EXHIBITIONS:
"THE PEOPLE'S MURALS"
Location: The Myrtle Banks Building – 1307 O.C. Haley Blvd, 3rd floor
Opening Reception: Saturday, August 15th | 6:00 pm – 9:00 pm
Dates: August 15 – October 15
Viewing Hours: Monday – Friday, 9:00 am – 5:00 pm
Cost: Free – Open to the public
Press Coverage: Article on nola.com by Doug MacCash HERE

OPENING OF "THE PEOPLE'S MURALS" EXHIBITION
CANO presents first of three Katrina Anniversary Events at Myrtle Banks Building
The Creative Alliance of New Orleans (CANO) along with Alembic Community Development will open a new exhibition anticipating the 10th Anniversary of Katrina at the Myrtle Banks Building (3rd floor; 1307 Oretha Castle Haley Boulevard) on Saturday, August 15th at 6 PM. CANO invites the public to this opening event with featured artists and citizens who worked on the murals, light refreshments, and food. It will kick off CANO's series of Katrina Anniversary events, which will continue with the opening of "The Spirit of the People of St. Bernard" exhibition on August 26 at the River House in Poydras, and the "9th Ward Improv Opera" performances on August 27 at St. Maurice Church, and 28 at the Andrew P. Sanchez Community Center.
"The People's Murals" is an extensive exhibition of murals that were painted by hundreds of community members – many of whom had never held a paint brush in their hand before – during the Prospect.2 International Art Festival in New Orleans in 2011. Local artist Robert Tannen launched this collaborative mural project, originally called "Art by Committee," six years after Hurricane Katrina rocked the New Orleans area as a way of expressing both the intensity of the post-Katrina era and the freeing exuberance that comes through the creation of art. In a reversal of the traditional gallery model, the interactive project invited citizens to come in and make art rather than to just look at it. There were no instructions given to the nearly 400 participants other than to "make images that were interesting or important to them," according to Tannen.
Eight of these large collaborative 12' by 15' canvases will be exhibited in CANO's Creative Space on the 3rd floor of the Myrtle Banks Building in Central City and herald a donation of the murals to public facilities throughout the City. The work of other local artists including Ayo Scott, Allen Lefort, Talbot Palmer, and Ron Bechet, who also worked on the murals, will be on exhibit as well.
"We encouraged participants to paint or make images that were interesting or important to them, and to think about the full mural rather than just their own section. We let people take it where they wanted to, to work individually or collaboratively, and found that most people chose to work together on the art. The murals offer an extraordinary diversity of imagery and hang quite well together as they share a collaborate quality," explained artist Robert Tannen on the project.
"This exhibit of work, created during the recovery from Hurricane Katrina, offers a reflection on the feelings of concern about the city's future, but also an excitement about the new energy developing among the city's citizens," said Jeanne Nathan, Executive Director of CANO.
"We are pleased to once again host a show that is meaningful to the communities and citizens of the city," said Benjamin Warnke, Founder of Alembic Community Development.
"The People's Murals" will be on view weekdays from 9:00 AM-5:00 PM through August and September, and for special events on weekends.
---
"Rights and Revival"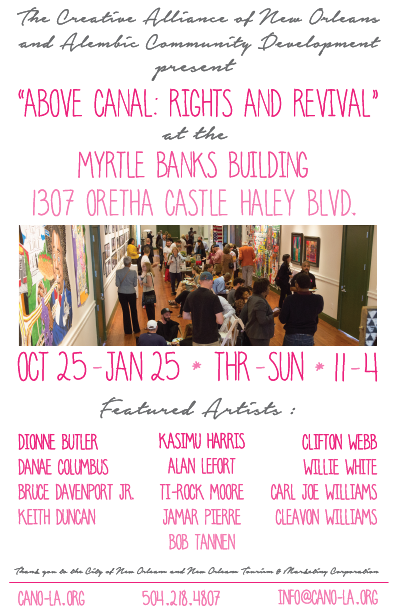 CANO presents "Above Canal: Rights and Revival", which includes works by creative producers which recall milestones of the civil rights movement and its legacy. The exhibition celebrates Central City's importance in this struggle and celebrates local artists who have lived and worked in the community. A photo montage of images from the movement in New Orleans produced by Dionne Butler and Danae Columbus is included as well as a large mural painted by dozens of neighbors, visitors, youth, and families during "Art by Committee", a P.2 exhibition. Exhibiting artists who address today's ongoing struggles, social justice challenges, cultural evolution, and celebration include Bruce Davenport, Carl Joe Williams, Cleavon James, T- Rockmoore, Keith Duncan, L. Kasimu Harris, and Robert Tannen.
Artists included in the exhibition: Dionne Butler, Danae Columbus, Bruce Davenport Jr., Keith Duncan, Kasimu Harris, Alan Lefort, Ti- Rock Moore, Jamar Pierre, Bob Tannen, Clifton Webb, Willie White, Carl Joe Williams, and Cleavon Williams.
Civil Rights from Creative Alliance of New Orleans on Vimeo.
---