Location: Crevasse 22 & The River House – 8122 Saro Lane, Poydras, LA
Opening Reception: Wednesday, August 26th | 4:00 pm – 7:00 pm
Dates: August – December 2015
Viewing Hours: Saturday – Sunday, 11:00 am – 4:00 pm or by appointment
Press Coverage: Article on nola.com by Doug MacCash HERE
Cost: Free – Open to the public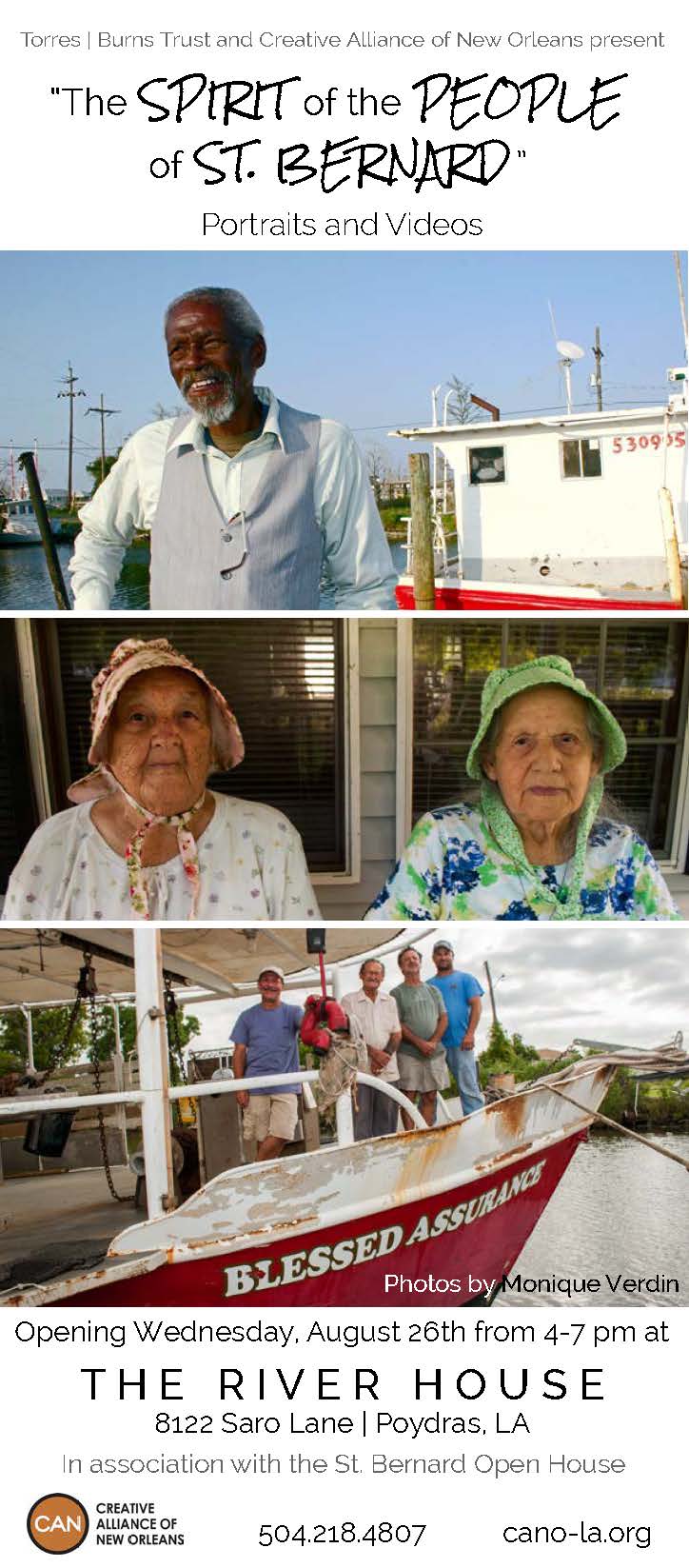 CANO's second presentation will open on August 26th at the River House at Crevasse 22 in St. Bernard Parish (8122 Saro Lane, Poydras, Louisiana) in partnership with the site's owners, the Torres I Burns Trust. The new exhibition, "The Spirit of the People of St. Bernard: Portraits and Videos" will celebrate the people of St. Bernard, including the "Islenos," who trace their lineage back to the original settlers from the Canary Islands, to people who currently live off the land, farming, hunting, and fishing; working in the energy industries; or who help shape the public and private sectors of the Parish. The exhibition will include portraits by noted artists Jonathan Traviesa, Monique Verdin, Blake Boyd, and New Orleans fine art photographers Keith Calhoun and Chandra McCormick, who represented the U.S. at the Venice Biennale 2015.
The opening of the new exhibition will be part of a parish-wide "open house" organized on the occasion of the 10th Anniversary of Hurricane Katrina and will take place as a reception on August 26th from 4:00-7:00 pm. The show will continue to be open through September.
"From the first day we opened the sculpture garden in October of last year, we have had wonderful experiences welcoming people who were delighted to learn about a part of this region they had not experienced before," said Sidney Torres of the Torres I Burns Trust which owns the site of the Crevasse 22 Sculpture Garden and River House Museum.
"It has been especially pleasing for us to enjoy with them the beauty of the landscape, our new sculpture garden, and our new River House museum," said Torres.
"We want to use this opportunity to make the world aware of St. Bernard's recovery from one of the worst natural disasters to strike an American metropolitan area, from showcasing the critical facilities and infrastructure that were rebuilt with federal tax dollars, to celebrating our unique Islenos heritage and culture, to highlighting our parish's place in the local art scene," said Mike Bayham, Chairman of St. Bernard Parish Katrina Commemoration Committee.
Related Posts
« CANO Hosts 3 Presentations on the Occasion of the 10th Anniversary of Hurricane Katrina Watch Full Movie Streaming And Download Office Christmas Party (2016) subtitle english »