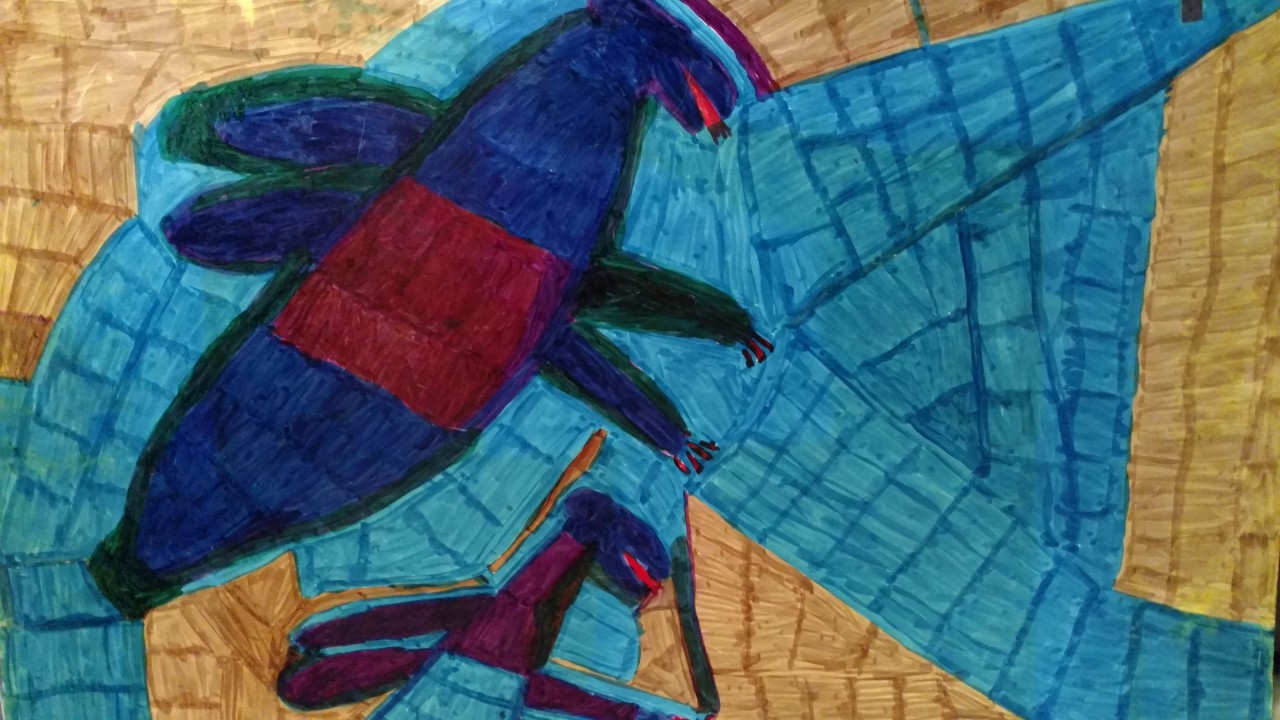 CENTRAL CITY SELF TAUGHT ARTIST GETS HIS DAY
Largest Survey of Willie White's work ever
Opens at Myrtle Banks Building
As part of the Grand Opening of Dryades Market
Please join us Thursday, April 14th at 1307 Oretha Castle Haley Boulevard for the opening of an exhibition, Honoring Willie White in the Creative Alliance of New Orleans' Creative Space in the Myrtle Banks Building in conjunction with the Grand Opening of the Dryades Public Market in the Myrtle Banks Building developed by Alembic Community Development.
WHAT: A solo exhibition featuring artwork by Central City, New Orleans based self-taught artist, William "Willie" White. This exhibition will feature 40 pieces of White's work from the 1980s. This exhibition is believed to be the largest survey of White's work presented. It opens in conjunction with a press conference and tour on April 14th and will also join the celebration the Grand Opening on Saturday, April 16th.
WHO: Willie White was a visionary, self-taught artist who combined intuitive knowledge of the earliest known visual art with contemporary work. White's personal history is a great testament to the human spirit and how he flourished by following his instincts. Born and raised in Natchez Mississippi in1908, he left home to work on riverboats as a porter and repairing Mississippi River levees. After settling in New Orleans, he was inspired by French Quarter artists to create his own work, mostly with felt tip pens on poster board. White lived on Dryades Street in Central City and began selling his artwork for $2 from a clothesline on his front porch. White's brilliant drawings include both abstract compositions and various subjects from religious images, to animals such as horses, birds, and prehistoric creatures. Many of his works focused on the explosive death of the astronauts on the space shuttle Challenger in1986.
WHEN: Thursday, April 14th, 10:30 am Dryades Public Market press conference, ribbon cutting and tour, Myrtle Banks Building, and the Creative Alliance of New Orleans' Creative Space on the 3rd floor.
*ATTENTION NEWS OUTLETS: Tours of the Market and CANO's Creative Space will be available immediately following the press conference.
Saturday, April 16th 12:00 – 5:00 pm an opening reception with light refreshments will be held in CANO's Creative Space, in conjunction with Dryades Public Market Grand Opening Celebration, which will take place from 8:00 am to 8:00 pm on Saturday, April 16. CANO's exhibition will be on display until May 14th with viewing hours Monday – Friday, 9:00 am – 5:00 pm, on Saturdays from 12:00 – 5pm and by appointment.
WHERE: CANO's Creative Space is on the 3rd floor of the Myrtle Banks Building located at 1307 Oretha Castle Haley Blvd.
About Dryades Public Market Dryades Public Market is a unique food market that builds upon New Orleans' historic tradition of public markets and offers affordable, fresh food in Central City. Through partnerships with established New Orleans vendors and purveyors, Dryades Public Market provides fresh and prepared foods and serves as an anchor property on Oretha Castle Haley Boulevard. It is open Monday – Thursday from 8 am to 8 pm, Friday-Saturday, 8am – 10 pm, and is closed on Sundays. For more information about Dryades Public Market, visit www.dryadespublicmarket.com
About Alembic Community Development Alembic Community Development invests in long-term partnerships in underserved neighborhoods through real estate development and, organizational capacity building. Through its offices in New Orleans and New York City, Alembic has developed a range of mixed use properties in collaboration with mission-driven partners, including affordable and supportive housing and commercial and community spaces.
Related Posts