2104 "Maker's of the Year" Honorees |   Bal Des Artistes 2014 Silent Auction   |  Bal des Artistes Sponsorships
BDA 2014  from Creative Alliance of New Orleans on Vimeo.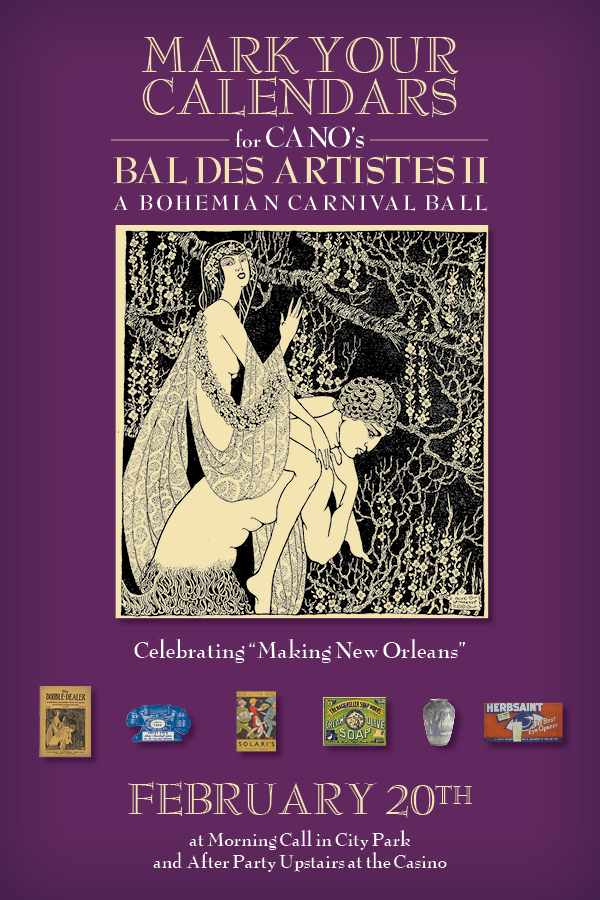 Bal des Artistes II to Evoke Bohemian Spirit of 1920's New Orleans Art Scene and Showcase Today's "Making New Orleans"
New Orleans, January 11, 2014. The Creative Alliance of New Orleans, CANO, will again transform the Morning Call Coffee House in City Park and the City Park Casino into a creative wonderland on February 20th, 2014, at 7:00 p.m. to present the Bal des Artistes.
Extending its growing tradition of presenting the work of current artists of all disciplines in a fantasy setting for the benefit of its programs, CANO rethinks the creative spirit of the city's Carnival traditions with new musical, theatrical, visual, and media elements that celebrate both the city's bacchanalian spirit and newly innovative drive.
"The artists in the French Quarter of the 20's set out to present balls like those in Paris where artists were upending the art world with outlandish new impressionist and abstract art, and a freewheeling social scene," said CANO Executive Director Jeanne Nathan.
"On February 20th the Parisian bistro-like Morning Call Coffee House will again evoke the spirit of those game-changers with the costumes, music, images and decor of our current exploding creative community, including what promises to be one of the most creative and eclectic silent auctions ever presented in the city," says Nathan.
The ball's theme this year, "Making New Orleans" was inspired by the just- published book of graphic artist Phillip Collier. Collier's book illustrates New Orleans' historic and current producers, manufacturers and artisans. Bal des Artistes will similarly present the work of artists, artisans and manufacturers in a unique Design Salon, in a uniquely creative silent auction, and in performances by new and recognized talent.
The evening of food, fun, and fantasy will be capped off by an after-party upstairs at the City Park Casino which will feature dancing to live and D.J. music and specially selected "Nightcaps".
Guests will enjoy the Louisiana themed foods, beignets and coffee offered by Morning Call throughout the event, as well as special culinary treats by New Orleans chefs and purveyors.
Guests will be expected to add to the creative spirit of the evening with costumes and ball attire. A judging by city artists will award the most creative and beautiful attire with works of art.
Tickets are $100 and may be purchased at baldesartistesii.eventbrite.com There will be a pre-sale special where tickets purchased by February 13th will be $85. Working artists and students may register for discounted tickets by emailing info@cano-la.org. There will also be a door prize raffle for guest upon entry to the event. Free and convenient parking is available immediately adjacent to Morning Call.
CANO will use funds raised at Bal des Artistes to support its Creative Futures program that helps high school students learn about and pursue creative careers; to showcase work of New Orleans artists of all disciplines in its "Artists on View" online video directory; to promote collaboration and business opportunities for artists with its CANOpener networking meetings and forums; and to advocate for greater investment in the creative economy from public, business and nonprofit sources.
 2104 "Maker's of the Year" Honorees | Bal Des Artistes 2014 Silent Auction | Bal des Artistes Sponsorships
Watch movie online The Transporter Refueled (2015)
Related Posts